Dog Licences
You can now pay your Dog Licence by credit card!
Register for e-billing and make payments through the My Central Saanich
Go to mycentralsaanich.ca, create account or log in and click on your dog account or register a new one.  If you have a balance outstanding, there will be a Pay Now button.
Please call us at 250-544-4206 or email finance.department@csaanich.ca if you have any questions.
Do you need a dog licence or tag?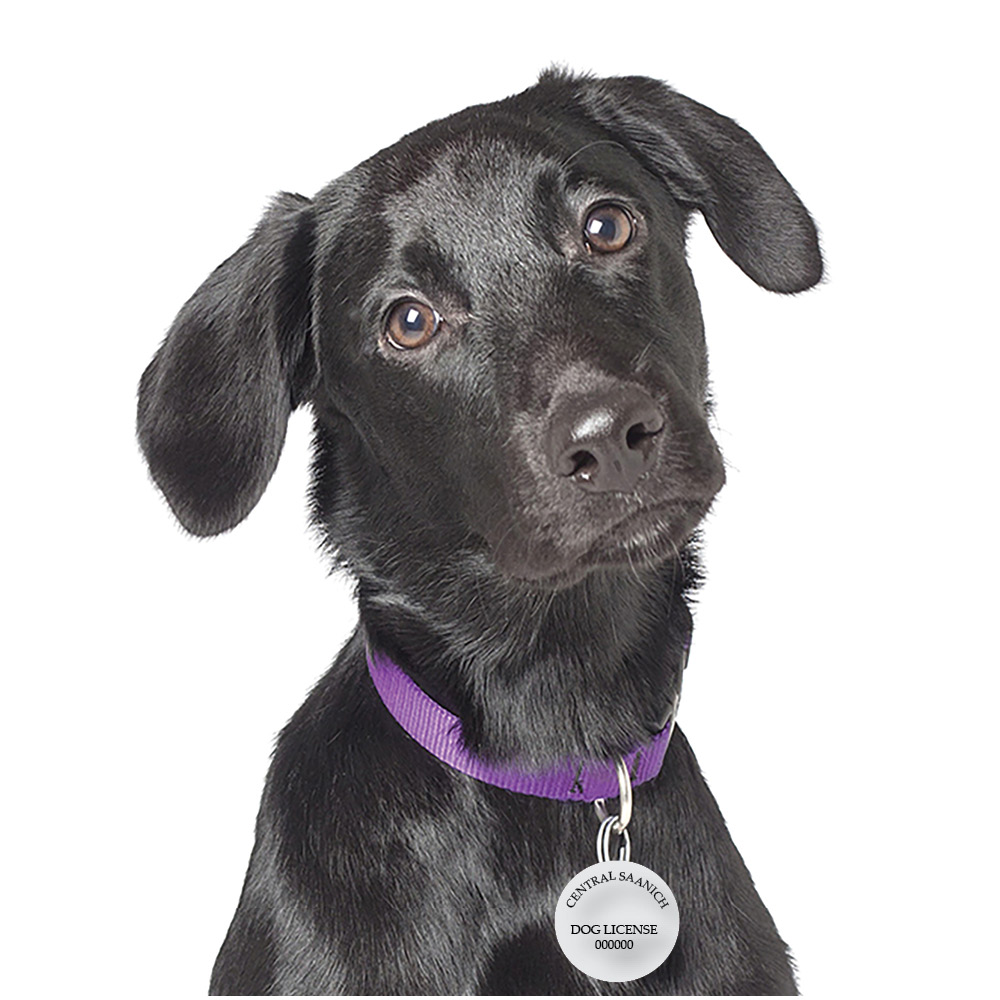 As of December 2017, we issue permanent dog tags. These still require annual renewal (to keep our information current and comply with the bylaw), and we will mail you a renewal notice by December each year.
Spayed/Neutered
Regular Fee - $30
Late Fee (after March 1) - $40
Unspayed/ Unneutered
Regular Fee - $45
Late Fee (after March 1) - $55
Please note replacement tags are $5.
As a licensed dog owner, did you know you're eligible for discounts from local businesses?
---
Reporting Stray Animals
If the animal has a licence, please call us at 250-652-4444 so we can identify its owner. If it is after hours or there is no licence, please call the Capital Regional District (CRD) Animal Control at 250-478-0624.
---
Reporting Public Safety Concerns
The CRD provides animal control services to our municipality. You can reach CRD Animal Control regarding domestic animal issues at 250-478-0624. After hours, they can be reached at 1-800-807-4077 for incidents involving a true and immediate public safety concern.
---
Wildlife Assistance
The SPCA are the contact for seriously injured wildlife. Call the SPCA at 250-388-7722 to report concerns.
 For bear or cougar sightings, or other wildlife problems, please call the BC Conservation Officer at 1-800-663-9453.
Any problems involving marine mammals can be directed to The Department of Fisheries and Oceans at 250-363-3252.
The District of Central Saanich participated in the Regional Deer Management Strategy with the Capital Regional District and other stakeholders in 2015 to reduce deer-human conflicts in the region, and focuses on agricultural areas. We continue to work with farmers and landowners.
Related documents: 
Non-migratory resident Canada geese were introduced from Eastern Canada in the 60s for wildlife viewing and hunting. These geese did not learn to migrate; instead they nest here, which threatens farm crops, damages sensitive ecosystems, leaves feces in parks and water reservoirs, and their aggression can be a problem for people and other wildlife. 
The Capital Regional District, municipalities (including Central Saanich), wildlife provincial authorities, stakeholders and farmers in the Saanich Peninsula and Metchosin are implementing a Regional Canada Goose Management Strategy.
In addition to the management strategy, we are working to find specific solutions for farmers and landowners that have been shouldering the burden of impacts from this growing non-indigenous goose population.
Central Saanich is working to control the mosquito population through public education, mosquito species surveillance, mapping, and through an environmentally sustainable control method for nuisance mosquitoes. 
See News Release - June 1, 2022
Mosquitoes are a natural part of the environment. The biological control agent used is extremely effective in reducing mosquito numbers but it is not possible to totally eradicate mosquito annoyance in all areas. 
Eliminate standing water sites by:
• removing discarded containers from around your property
• regularly replacing water in bird baths and livestock troughs
• storing boats, canoes and other objects so that they do not collect rainwater
To reduce the annoyance of mosquitos:
• install and maintain tight fitting window and door screens to help keep mosquitos out of your home
• wear light coloured, loose fitting clothing
• don't eat near your barbeque (since heat and moisture from barbeques attracts mosquitos)
Misconceptions about mosquito repellents and control methods
• Sound and electric devices have no repellence effects and are marketed with no test results
• Citronella (plants and candles) has no data to support mosquito control claims and the unpleasant odors do not guarantee results
• Skin moisturizing oil field tests do not support mosquito control claims and mosquitos are repelled far more by DEET than by skin moisturizer products
• Bug zappers kill mostly beneficial insects (mosquitos comprise less than 5% of their catch) and the zappers actually attract mosquitos
• Insect eating birds are not effective as ornithologists state that swallows do not prefer mosquitos and mosquitos make up less than three per cent of their diet
Insect eating bats are not effective as their diets consist mainly of beetles, wasps, ants, flies, stoneflies, mayflies, moths and grasshoppers; and mosquitos make up less than one per fect of their diet 
Mosquito magnets can actually draw mosquitos into an area to bite humans
If you have mosquito habitat that is on your property which is not already known by control personnel, please contact DUKA Environmental Services Ltd. at 1-800-681-3472.